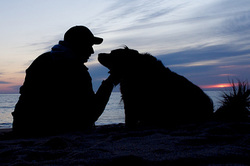 This weekend, I was out for a walk with my two pups. We went on one of our usual paths saying hello to everyone and sniffing and wagging all the way. Usually, when we are sharing the sidewalk or path, I move to the side and let others pass us or let them have the the entire area because my dogs are big and people are sometimes intimidated by their size and over-friendliness.
On this day, however, a man and woman walked right up to me and the dogs. The man bent down and embraced my two babies (much to my concern I might add) and the woman looked on and wept. My dogs were over-joyed with the attention!
The man looked up and me and said, "We just love labs! These girls are so beautiful. How old are they?" I went on to explain that one was 2 and the other almost 13. All the while, my dogs were lavishing he and his wife with kisses and dancing around them happily. "Thirteen!" He exclaimed! That's amazing! We just lost our 8 year old lab last week". Now their warmth towards my dogs made a lot more sense. I expressed my sympathy and we chatted for a few more minutes about our lives with dogs. "Thinking back", he said, "If I could do anything different, I would have fed him better". "I think it would have made a difference in the length of his time with us". I nodded my agreement, knowing that we never really know how much time we all have to love our furry-kids.
Now, this man and woman didn't know me at all.
They didn't know that I make and sell healthy dog treats.
They didn't know that we work with people like
Rachael Johnson at Your Dog's Diner
, to provide healthy dog food for people that like to cook for their dogs. All they knew, was that they were missing their companion on their walk around the park that day. They found some puppy love and some kindred souls to ease some of the grief they were feeling.
As we went our separate ways, I thought a lot about what we said and about how our dogs count on us for so many things. Probably most importantly, their healthy food. We can definitely make their lives
good,
satisfying
and healthy by providing thoughtful food and treats.
I hope I see them around the park again someday. I hope, that when the time is right, they'll open their hearts again to a new 4-legged baby and that we'll share a few more moments like we did this weekend.