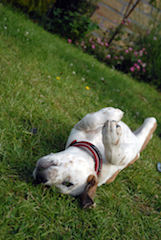 Necessity, being the mother of invention, prompted we three dog parents to begin baking and sharing all natural and safe dog treats. With tail wagging votes of support, we launched our all natural biscuit baking business, The Biscuit Barkery of Northern Colorado in 2012. Our all natural, handmade and oven baked biscuits come in five flavors - peanut butter oatmeal, chicken, apple cinnamon, gluten-free pumpkin and gluten-free honey. In the next month we will "roll" out two new flavors: bacon and a grain-free fruit/oatmeal mixture.
As dog parents ourselves, we are excited to offer our natural treats to your dogs. Our biscuits are available in half-pound bags and are available for purchase online at
www.nocobarkery.com
We are so confident your dog will love our biscuits that we are giving away 10 free bags to fans of The Biscuit Barkery!
Simply use the "contact us" form on our website to enter the drawing. Please include the flavor and size of the treat you wish to try in the comment section. We will close the drawing on April 6, 2014 and contact our lucky winners at that time. Good luck!